The Story of the Waynesville, Port William and Jeffersonville Railroad – The "Grasshopper" Railroad – From Farmers to Ford
By Mike Mason and Roger Starnes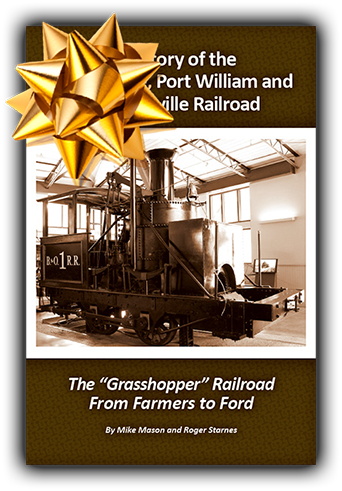 Considering a gift for the holidays? Print run #1 is getting low!
Books are $19.95 can can be purchased at the Clinton County Historical Society in Wilmington, Ohio, or online at Braughler Books store. Buy 2 or more books and get a free 1875 reproduction stock certificate. Buy 10 or more books, save 10%!
About the Book
Many young railroads around the Unites States in the late 1800's were known as "Grasshopper" railroads because of the type of engines they used. Long after these engines were phased out, the name stuck. This is the story of the "Grasshopper" Railroad that was funded by farmers, often in bankruptcy, and was at one time owned by Mr. Henry Ford, running through mid-western Ohio for some 77 years.
The book includes 40 historic black and white images from the author's personal collection, as well as 97 black and white photos showing the current locations where the railroad used to run.  Thirteen hand drawn maps indicate stations along the old railroad, and how to locate them. A great book for railfans and history buffs alike!
Looking for more info?
If you would like to know more about the "Grasshopper" Railroad, or any of the line's many other names, we welcome the opportunity to speak at your event or meeting. Just contact us from our Facebook page.

Thanks for caring about history!
© 2017 Mike Mason and Roger Starnes